"Adrian Xavier spreads message of peace through reggae music.
April 18th, 2008 · 
Amber McKenna
"Artist Adrian Xavier brought reggae, soul and inspiration to campus last night as part of Diversity Week."
"I chose to bring him to campus because I really like his laid-back
personality," junior Allison Lindell-Ross, cultural events chair of the Linfield Activities Board, said. "His peaceful message seemed very appropriate for Diversity Week."
Xavier is full of personality. Growing up in Washington with a human rights activist for a mom, he was exposed to some of the most prominent environmentalists of today. With a Los Angeles disc jockey for a dad, he started studying music at age five and met many industry professionals early on."At 10 years old, I went to my first concert, Michael Jackson and the Jackson Five, and sat with Dick Clark," Xavier said.
Performing with Xavier was guest electric violinist Geoffrey Castle. Castle and Xavier often perform in each others' ensembles for various shows. 
His performance at Linfield coincides with the release of Xavier's newest album, "Miracle." Xavier said this new album reflects his growth as an artist, and calls it his most mature release to date.
Xavier said he has had the privilege of performing in Bend, Portland and Eugene, but this was his first time in McMinnville.

Following suit, all of the Xavier's merchandise is manufactured using sustainable practices andAside from making music, Xavier said his band is committed to raising awareness about the environment. "I want to encourage people and inspire them to have a low impact on the environment," he said.
products.
Xavier said he has had the opportunity to participate in numerous festivals and events, where he can act as a resource on environmental issues, and gets to work with environmentally friendly companies. "I'm excited to see that people are starting to wake up and say 'We don't have to live that way, with all the polluting; we can move toward the future,'" Xavier said. Xavier's music is available on iTunes; his current No. 1 seller is the single "Mother Nature."
Earth Day Celebration at Ashkenaz: Wednesday, April 23, 2008Ashkenaz celebrates Earth Day with conscious music from the Adrian Xavier Band and Joe B, preceded by ecologically-themed short films. Seattle's Adrian Xavier has been performing for almost two decades, starting the band Pure Water in 1997, and under his own name since 2000, singing and playing reggae-rooted world music that adds in rock, hip-hop, jazz and soul. His 2004 debut CD, "R-Nature," features such original songs as "Mother Nature" and "Redemption Road." On lead vocals and guitar, Xavier is backed by a globe-trotting band featuring keyboardist Mark Cardenas, violinist Geoffrey Castle, Jamaican-born Lennox Holeness on bass, drummer David Carpenter and lead guitarist Brian Ray. www.adrianxavier.com Joe B, the leader of The Flux, will also be making special guest appearance debuting his new acoustic project! Presented by the Berkeley City College Green Club and Ashkenaz, the Earth Week Film Festival offers free showings of three movies, totaling approximately 80 minutes: "Sidewalk Stories" by Hannah Chauvet Commissioned by the Ecology Center to celebrate the 30th anniversary of their Curbside Recycling Program, a brief history of the recycling movement in Berkeley. Shows interviews with some champion recyclers - winners in the Cash for Trash contests. Shows how the materials are sorted and follows the baled recycled materials to the Oakland port. Chauvet will appear in person to discuss her inspiration for making the film. "The Recyclergy" by Jeremy Kaller www.recyclergy.com San Francisco Bay Area recycling pioneers share their insightfully hilarious thoughts and stories on garbage collection, treasure hunting, Jack Benny, and the products we buy. Featuring music by Rube Waddell, The Recyclergy is an entertaining examination of a fading subculture. "The Story of Stuff" narrated by Annie Leonard www.storyofstuff.com An animation of the consumerist society, "'The Story of Stuff' is a 20-minute, fast-paced, fact-filled look at the underside of our production and consumption patternsÉexposes the connections between a huge number of environmental and social issues, and calls us together to create a more sustainable and just world." Doors at 7pm; music at 9:30pm; Free films from 7:30pm-9pm.Location: Ashkenaz, 1317 San Pablo Ave., @ Gilman, Berkeley Time: 7pm.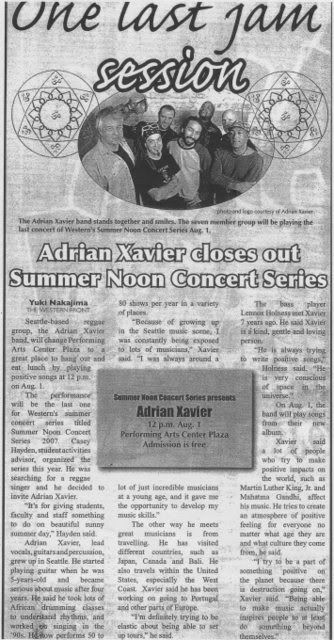 Adrian Xavier was a featured artist at the Pike Place Market's Centennial Celebration